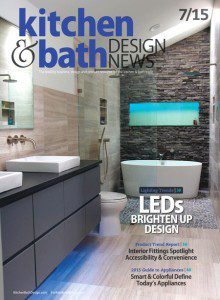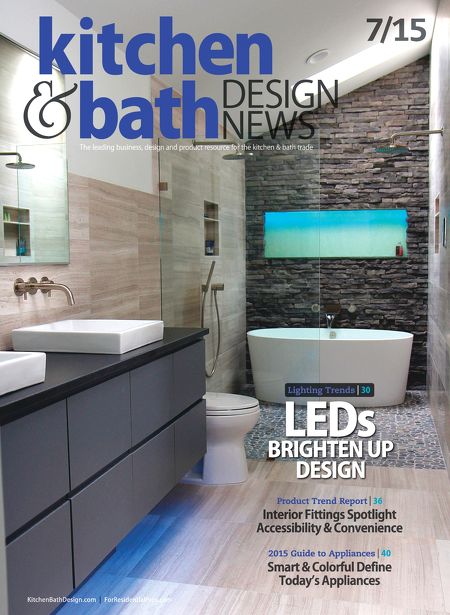 Kitchen and bath designers spend countless hours creating functional footprints, then adding just the right materials and products that take the design to the next level. But all can be for naught without considering how lighting affects the space.
"Lighting is everything [to a design]," says Michelle Fee, of the Atlanta GA-based Change Your Bathroom. "That's evident when you consider how much money showrooms spend on lighting to showcase their beautiful designs, tiles, etc. Then you take them home and the grays and browns look dingy and the whites aren't as white. That's the difference between having great lighting and not having great lighting. Everything relies on light."
For Amanda Haytaian, of House of Cline Design in Little Silver, NJ, lighting can add something special to the space. "It's the jewelry to the room," she says. "I like to include lights that make a room look attractive even when it isn't being used. For example, in a kitchen, I like to include interior cabinet and undercabinet lighting or sconces on separate switches from high hats so, depending on the time of day or the task, they can have a pretty light without all the lights being on."
These days, lighting in kitchens and baths is more and more about LEDs, especially for general lighting in high hat/recessed cans and task and accent lighting in puck and tape/strip lights. Even pendants as well as chandeliers and sconces are more commonly available with LED options.
As such, many designers incorporate LED lights in most of their designs. "It has been a long time since I've done a project that hasn't included LEDs," says Karyn Judd Reilly, CKD in Winston Salem, NC. "They are a standard part of my designs."
Chris Chumbley, USI Design & Remodeling in Prairie, TX, agrees. "We use LEDs for practically every application now," he says. "There really isn't anywhere where I wouldn't use them."
Chumbley also likes using LEDs in part because of what they portray about his company. "I think when you are an early adopter of any technology, it conveys to your clients that you are an advanced company, that you are always looking for new products," he says. "It also conveys that we are trying to help them 'better' their home. Our clients want the best product available. They understand the cost of LEDs and they want to buy whatever is the best value. That may not always be the cheapest option."
Susan Rocco of The Kitchenworks in Fort Lauderdale, FL, also recommends LEDs to her clients. "It wasn't that way even five years ago when all the LEDs were blue," she says. "We prefer the warm white LEDs that are available now. They are more of a pure, natural light. I don't like to draw attention to the lighting fixtures…the key is to hide them. It's more about the accents, the color and the feel of the room and what the light fixture does to enhance the design and the way a space functions."
With the increasing popularity and availability of LED lighting, this month KBDN asked designers to discuss some of their most common uses for LEDs and what trends they are seeing as they relate to LED products and applications.
Susan Rocco
The Kitchenworks, Fort Lauderdale, FL
Undercabinet lighting: "We use a warm white LED [strip/tape] light with a lens cap so you don't see dots of light," says Rocco. "In general, LEDs are more expensive, but they are worth it because they don't give off the heat [of a halogen or xenon bulb] and they are energy efficient. You can leave them on for hours and hours. LED lighting is definitely the wave of the future. Manufacturers have made such strides and there is now so much great technology."
'Personality' fixtures: "We're seeing that people love to use lighting, especially pendants and chandeliers, to reflect their own personal style…anything from funky to artsy to coastal," she notes. "It's a neat way for people to showcase their taste or to give a room a certain direction."
Rocco also suggests that her clients use dimmer switches with their LED light fixtures. "You can really set the mood," she says. "For example, a chandelier above an island can be kept bright for everyday use but then be dimmed down for a romantic occasion or to highlight an island for entertaining. It's great to be able to play with lighting to really make it your own, and different lighting levels give the room a whole different feel."
In cabinet lighting: Warm white puck lights and strip/tape lights are Rocco's go-to choices for this application. "LED tape lights that run vertically are a great choice for lighting interior cabinets because they shine consistently throughout the cabinet," she explains. "We do a custom channel so the lights can be hidden by the trim moulding so you never see them. They give a great glow to the whole cabinet."
Favorite application for LED lights: Undercabinet lighting is Rocco's favorite use for LED lights. In fact, she recommends LED undercabinet lighting to all her clients, and virtually everyone heeds her advice. "Lighting's first function is to keep a space safe, such as lighting a pathway," she says. "But a good lighting plan will also include proper task lighting, in addition to accent lighting for focal areas and glass door cabinets. That's why we recommend undercabinet lighting on all of our jobs, so the countertops are lit up when it starts to get dark outside.
Chris Chumbley, CGR, general partner
USI Design & Remodeling, Grand Prairie, TX
More lighting: "My clients are spending more money for electrical, in general, while getting a better result in how kitchens and baths, and really all rooms, are lit," says Chumbley. "They are spending more money on materials and they want them to show better."
Greater focus on lighting: People are paying more attention to lighting, he notes, adding that this, in turn, puts more emphasis on the design and elevates its overall appeal. "When clients look at images, they look more at the lighting," he states. "For instance, they will notice what is being used in the ceiling and they will pick up more on project details."
Favorite application for LED lights: "In general, with all of our LED lights, we use a diffused lens," he says. "It broadens the light a little better. We do a lot of hardwood floors and, depending upon the height of the ceiling, you can get a spotlight effect on the floor without it. It also gives a unique look – which everyone craves – and it automatically distinguishes itself from a regular can light. Plus, it isn't any more expensive than a regular LED."
Amanda Haytaian, owner/designer
House of Cline Design, Little Silver, NJ
Sconces in the kitchen: Based on the size of the space, people aren't doing as many wall cabinets, says Haytaian. "They will leave more open wall space, for instance, on each side of a sink under a window where I can add wall sconces instead of cabinets," she explains. "In the bathroom, I also do a lot of simple Robern cabinets and will add some interesting lighting such as a wall sconce. I am definitely seeing more sconces in kitchens and baths."
Contemporary fixtures, even in traditional homes: "My clients are being a little braver about bringing in more contemporary lighting, even in traditional homes," she says. "Contemporary chandeliers and pendants can really freshen up the look."
Square trim: "I've been using more LED high hats with small square trim," she states. "It gives a more modern, contemporary look to the space."
Favorite application for LED lights: Haytaian's favorite use for LED lights is for accent lighting under and inside cabinets. "The strip lights are very tiny, so they are easily hidden compared to the lights we used previously under the cabinets, which were big and bulky," she notes.
Haytaian also adds a lot of floating shelves to her designs. "I always route a strip into the top or bottom of the shelf, depending on the design," she says. She also includes a diffuser for a steady stream of light.
Michelle Fee, designer
Change Your Bathroom, Inc., Atlanta, GA
Toekick vanity lighting: "We work a lot in bathrooms, as opposed to kitchens, and under vanity lighting is one of our top requests," says Fee. "It is a nice nightlight feature because you can turn down the brightness (with a wireless remote) and you can have the light come on with a motion sensor when you walk into the room."
Frameless glass panels: "This is a great option for bathrooms that lack a window, because it gives the illusion of a false window," she says, noting that the panels she uses come in custom sizes and shapes. "It is also controlled by a remote and has limitless color options. Since it is waterproof, it can also be used as a cool feature in the shower…think backlit recessed shelf!"
Lighted vanity mirrors: In these applications, Fee prefers 3000K (Kelvin) to 3500K bulbs, which offer from daylight to brightest daylight illumination. "The bathroom is one of the first places you wake up to," she says. "This temperature of lighting gives an 'awake' and happy feeling, arousing your senses and helping you get ready for the day. It's an emotional uplift.
"In general, when it comes to lighting in the bathroom, I first make sure the design includes enough lumens per fixture for the size of the bathroom to ensure there is proper lighting for dressing and makeup application," she states, noting that dark-colored walls, tile and cabinetry may require more lumens to offset the dark materials. "This also gives the finished design a more 'professional' or showroom feel. Then I consider what the areas are being used for and make sure the client's preference is taken into consideration. Some people prefer to have some fixtures with a warmer Kelvin for mood lighting in one area with cooler, brighter lights over the vanity, while others choose the same Kelvin for the whole room."
Favorite application for LED lights: "Since we use so many different types of LEDs throughout the bath, it is difficult to choose a favorite," she says. "However, some of my personal favorites are the under vanity [toe kick] lighting and the glass panel. But all lighting is really paramount, including can lights that provide general room light, directional lights such as small adjustable cans for lighting an accent wall and strip lights – which are handy because they give off a lot of light in a small package and can easily be hidden – for mood lighting, where lighting from underneath can give a neat feeling."
Karyn Judd Reilly, CKD
Winston Salem, NC
Diffused lights: "My clients don't want to see dots of light," says Reilly, in reference to the spots of light that can be seen from LED tape lights without diffusers. "Now manufacturers are offering a diffused glow option where the diodes disappear into a stream of light. That can be a big deal, especially for clients with glossy countertops…dots of light will reflect and that's never a pretty picture! Diffused glow is where everyone is going."
Diffusers are available for puck lights as well as recessed can lights, Reilly adds.
In cabinet lighting: "As far as cabinet lighting, it used to be that undercabinet lighting was special, but now that's pretty much a given," she says. "In fact, I feel like we are doing a disservice to clients if we don't offer undercabinet lighting, because it's so important to have high-quality, high-intensity lighting that is adjustable. Now I get more requests for lighting inside cabinets…for every cabinet, even those without glass doors such as pantries and blind corners, or any cabinet that is difficult to access. Some cabinet manufacturers are now offering lighting inside cabinets as an option."
Reilly especially sees tape lights being offered as an option, since puck lights can more easily be added on site. "A frameless cabinet has no place to hide lights," she says. "It provides a much cleaner look if it can be recessed into the side panels."
Unexpected touches of light: "Lighting is now becoming part of the design," she explains, noting that, with the increased availability and reduced cost of LEDs, she now thinks about how to incorporate lighting at the beginning of a project, rather than waiting until the end. "It is also part of the inspiration. When we incorporate lighting at the beginning, we can include more unexpected uses of light that make a design special. It can be something as simple as toe-kick lighting, which is great when it can be used with a motion sensor so when someone comes into the bathroom late at night, they don't have to worry about turning anything on. It's a small and relatively inexpensive treatment, but it's something that makes a huge impact and it's something that everyone tells their friends about!
"I'm also using RGB [colored] lights behind acrylic panels," she continues, also adding that she often lowers the crown moulding on upper cabinets and adds lights to give a glow onto the ceiling.
Favorite application for LED lights: "While not necessarily part of the kitchen or bath, I'm seeing the biggest growth area for LED lighting in closets," she says. "It's been huge. Everyone wants LEDs in their closets…everything from lit closet rods to the sides of [shelving] partitions. It gives more of a boutique feel."
AUTHOR: Kim Berndtson
http://www.forresidentialpros.com/inspiration/design/article/20000716/leds-bright-future