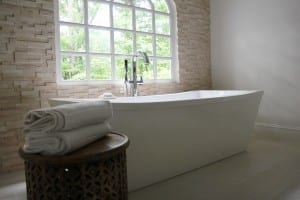 Are you looking to remodel your bathroom? We do complete bathroom remodeling in Atlanta, GA. We have bathroom design, bathroom 3D renditions and bathroom renovation. We can create the most luxurious bathroom remodel or if you are looking for a basic bathroom remodel we also have our budget friendly options to insure that you have the bathroom remodel that is fitted to your needs. Please ask us about all our bathroom remodeling options, whether you are looking for a custom bathroom remodel or a just a standard bathroom remodel in Atlanta and the surrounding Georgia area. We are here to help with all bathroom design, 3D bathroom renditions, and bathroom installations. We can either supply the material or work with your own materials that you have already purchased.
We are the most flexible bathroom remodeling service that you can work with. We offer specialty services such as hand sorting and hand placing tile. Our own proprietary products such as our Hidden Drain Shower System: a hidden curbless shower drain which is a trench style drain that is hidden in your shower floor. Trench drains are a very popular and practical option when putting in a new shower. Why not go a step further and insure that you have the best, most innovative product on the market? Trench drains are great, but go a step further and install a hidden drain system. Our Hidden Drain system does not allow any clogging, it makes the bathroom easier to clean and it's just low maintenance. Not to mention we offer optional remote controlled LED lighting inside the drain- we generally mount that light on a motion sensor for a night light when you walk into the room.
Also, don't forget about our Dust Defense containment system. This containment system has revolutionized the construction industry. Not only should contractors be clean about their projects they should also protect the home from all dust, debris, mold spores, crystalline silica and lead particles. We have created this system with the safety of the homeowner and their families in mind. We are working towards a safer construction and remodeling future and will continue to create products to that end.